WHAT IS A WATERSHED?
A watershed is an area of land where all of the rain and snowmelt drains to a common waterway.
York County Watersheds
Susquhanna River Watershed
Pennsylvania Watershed
Chesapeake Watershed
YORK COUNTY COALITION FOR CLEAN WATER
Click here to learn about our water challenges and what you can do to help.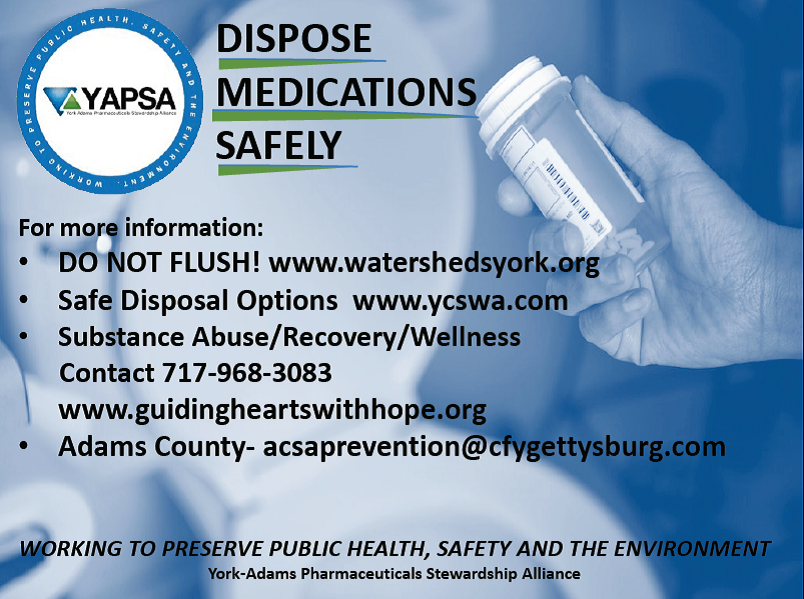 DO NOT FLUSH!
Medications, personal care products and herbicides are likely weakening the immune systems of Susquehanna River smallmouth bass, making them more susceptible to diseases, and that, in turn, has caused a population collapse for the bass, the river's most popular recreational fish, a new study has concluded.
The York County Solid Waste Authority (YCSWA) partnered with 16 York County police departments to host medication take-back boxes in their police department lobbies. In 2016, the program safely collected and disposed of a total of 4.2 tons of unused and expired medications, an increase of 2.03 tons over the 2.23 tons collected in 2015.
The York-Adams Pharmaceuticals Stewardship Alliance (YAPSA), partnering with YCSWA, is hoping to distribute 25,000 refrigerator magnets to educate and reach out to the public, in Adams and York Counties, about safe disposal options, water quality protection and prescription medication abuse/recovery resources.
You and your organization can purchase quantities of for distribution to your residence and constituents. If your community organization is interested in purchasing and distributing these refrigerator magnest, please contact Martha King to place an order or questions atadvocacymom@embarqmail.com.